KraussMaffei focuses on customer experience and digital technology at FIP 2022
KraussMaffei teams will be present at FIP, the trade fair for the Plastics, Composites & Rubber industry in France from April 5 to 8, 2022 in Lyon. Digitalization has accelerated the transformation of the market. Therefore, for the first time, KraussMaffei has chosen not to exhibit any machine on its booth. This exhibition will therefore be an opportunity for the plastics pioneer to highlight all the digital solutions offered to its customers.
"Our objective is to highlight our service solutions. Therefore, we have chosen to present an entirely digital stand at the FIP where no machines will be exhibited. The show is a unique opportunity for us to strengthen the links with our customers through presentations and exchanges with our experts", explains Christophe Longuet, President of KraussMaffei Group France. The solutions presented at FIP will also largely develop the theme "Making plastics more circular" to maximize yield, ensure product quality, reduce life cycle costs and ensure sustainability.
Large displays will showcase innovative solutions developed by KraussMaffei, enabling increased machine productivity, higher quality, and lower production costs. These new solutions provide real added value through the customer's integral and coordinated control of the machine fleet and online remote access from KraussMaffei experts.
Industry 4.0 and digital transformation have become a reality
In particular, customers and visitors will have the opportunity to experience the "SocialProduction" web and mobile app at FIP 2022, which helps optimize the production of injection molding machines. This new KraussMaffei application combines the advantages of social networks and advanced technologies for better production monitoring: the machines inform users live in secure chat groups.
SocialProduction automatically identifies deviations in the production flow, bringing machine monitoring into a new era.
LiveCare is KraussMaffei's new solution for remote maintenance management based on information sent by the machine. Seamlessly integrated into SocialProduction, wear and tear conditions are monitored and visible at all times.
KraussMaffei is thus resolutely committed to a digital approach that will bring more service to its customers. KraussMaffei has just reinforced its management team with the arrival of Frédéric Falmer, ex ArcelorMittal digital transformation leader, as Digital and Service Solutions Director for KraussMaffei France.
Contact Person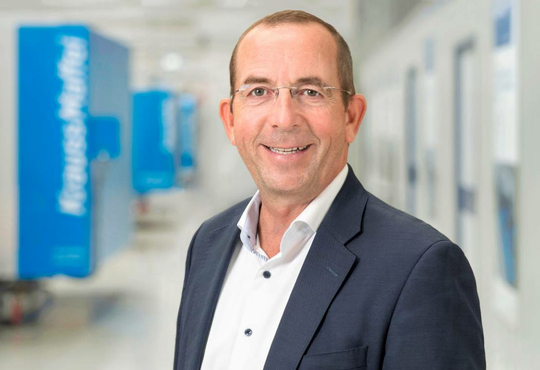 Head of Corporate Communications
Uli Pecher
Tel +49 (0)89 88 99 10 80
Fax +49 (0)89 88 99 30 92
Mail to Uli Pecher