KraussMaffei laid the foundations for a new plant and headquarters in Parsdorf
(Munich, September 11, 2020) Dr. Michael Ruf, Chief Executive Officer (CEO) of the KraussMaffei Group, Bavarian Deputy Minister for Economic Affairs, Roland Weigert, the mayor of Vaterstetten, Leonhard Spitzauer, and Jan van Geet, CEO of VGP, a leading European project developer of high-quality logistics and commercial real estate, held a ceremony today to symbolically lay the foundation stone for the KraussMaffei Group's new site in Parsdorf east of Munich.
Moving to the new site is scheduled to start in November 2022, completed in 2023. The previous location, the main factory and the company headquarters in Allach, will be closed. KraussMaffei Automation will leave its current location in Schwaig and also move to Parsdorf. In the future, everything will be under one roof: the corporate headquarters, the injection moulding and reaction processing divisions, and the manufacturing as well as automation departments. The move to Parsdorf is part of the new location strategy of KraussMaffei, a 182-year-old Munich-based company.
CEO Dr. Michael Ruf thanks Chinese owners
"In Parsdorf, just like in Laatzen and at our other sites around the world, we want to mould a modern, innovative KraussMaffei. In March we opened our new plant in JiaXing, China, and a few weeks ago the new plant of our subsidiary Burgsmüller in Einbeck. And we recently celebrated the laying of the foundation stone in Laatzen near Hannover, too," says KraussMaffei CEO Dr. Michael Ruf, explaining the group's location strategy. "I would like to extend a special thank you to our Chinese owners. Without them, we would not be able to implement the renewal of our company and thus our growth plans."
From 2023, up to 2,500 employees will be able to work at the new site on an area of 250,000 sqm with modern workplaces in the administration, production, logistics and training centre. Initially, three new production halls, a customer experience centre, an administration building and two modern multistorey car parks including e-loading stations will be built on the site.
Smart Factory: Parsdorf as innovative company headquarters
New KraussMaffei plant offers 250,000 square meters of space for up to 2,500 jobs in production, assembly and administration
At the new location in Parsdorf, the 'Smart Factory' concept of the project developer VGP will be realised. The focus is on the development of innovative technologies, new services and digital products. Modern logistics, efficient work processes and consistent digitalisation will increase productivity and make the new location more attractive for employees. In addition, this will facilitate future innovations in production as well as in research and development of new products.
"Sustainability and energy efficiency are central parameters for the properties developed by VGP. In Parsdorf, we rely entirely on the 'Smart Factory' concept. This means, for example, modern building technology, including a photovoltaic system, a combined heat and power unit, heating and cooling sails in the offices, active hall ventilation and air conditioning, sprinkler systems, early fire detection and intelligent LED lighting with light and motion sensors," says Jan van Geet, CEO of VGP, explaining the Parsdorf concept, "In 2019 we have set ourselves the goal of having all new buildings in Germany certified according to the DGNB system (German Sustainable Building Council)," van Geet continues.
"The move to Parsdorf is a chance of the century for KraussMaffei"
"The move to Parsdorf is a chance of the century for KraussMaffei. And it will be one of the biggest relocation projects in the Munich area after the relocation of Riem Airport some 30 years ago. A huge project. But we also wanted to remain loyal to the Munich region" said Dr. Michael Ruf at the ceremony.
Vice Minister Roland Weigert on the Parsdorf site
Foundation, Parsdorf (f.l.): Dr. Michael Ruf, CEO KraussMaffei, Jan van Geet, CEO VGP, Dr. Angelika Niebler, Member European Parliament, Leonhard Spitzauer, Mayor of Vaterstetten, Roland Weigert Bavarian Deputy Minister for Economic Affairs
Roland Weigert, Vice Minister in the Bavarian Ministry of Economic Affairs, Regional Development and Energy, was delighted with the decision to locate in Parsdorf: "The mechanical engineering sector with its global players is a pillar of the Bavarian economy and KraussMaffei, as a company with a long tradition, is a figurehead for the industry. The investment of around half a billion euros in Parsdorf speaks for the quality of Bavaria as a competitive and sustainable industrial location. In these challenging times of structural change and Corona, this commitment sends an important signal to stay here or to come back. The innovative strength of mechanical engineering in Bavaria will continue to contribute to value creation and prosperity in the future. The promotion of research and development and securing the appropriate investment framework are therefore core elements of the Bavarian government's economic policy. "
Leonhard Spitzauer, Mayor of Vaterstetten, is also pleased about the project: "VGP is a reliable and professional partner for us, with whom we can further strengthen our location. We are very honoured that KraussMaffei is moving its headquarters here."
We are moving
KraussMaffei was based in Allach for many years. In 2022, the long-established company moves to Parsdorf in the Ebersberg district. The laying of the foundation stone is another decisive step in this new chapter in KraussMaffei's history. Some impressions of this special day.
Foundation, Parsdorf (f.l.): Dr. Michael Ruf, CEO KraussMaffei, Jan van Geet, CEO VGP, Dr. Angelika Niebler, Member European Parliament, Leonhard Spitzauer, Mayor of Vaterstetten, Roland Weigert Bavarian Deputy Minister for Economic Affairs
.jpg (11.16 MB)
Contact Person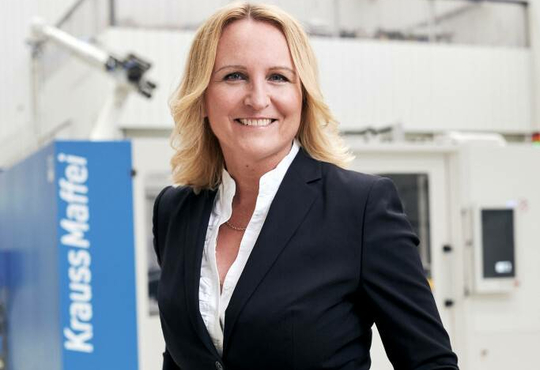 Vice President Global Marketing & Corporate Communications
Marion Sommerwerck
Tel +49 (0)89 88 99 25 92
Fax +49 (0)89 88 99 30 92
Mail to Marion Sommerwerck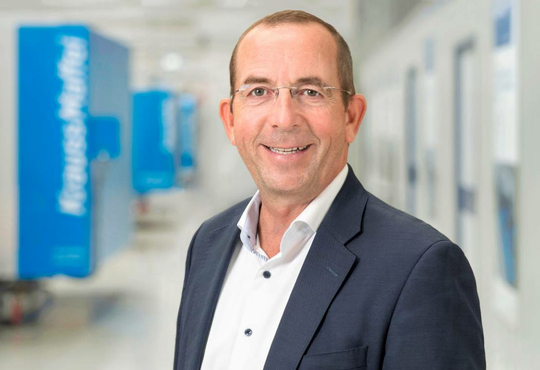 Head of Corporate Communications
Uli Pecher
Tel +49 (0)89 88 99 10 80
Fax +49 (0)89 88 99 30 92
Mail to Uli Pecher