Circular Economy: Digitalization makes the decisive difference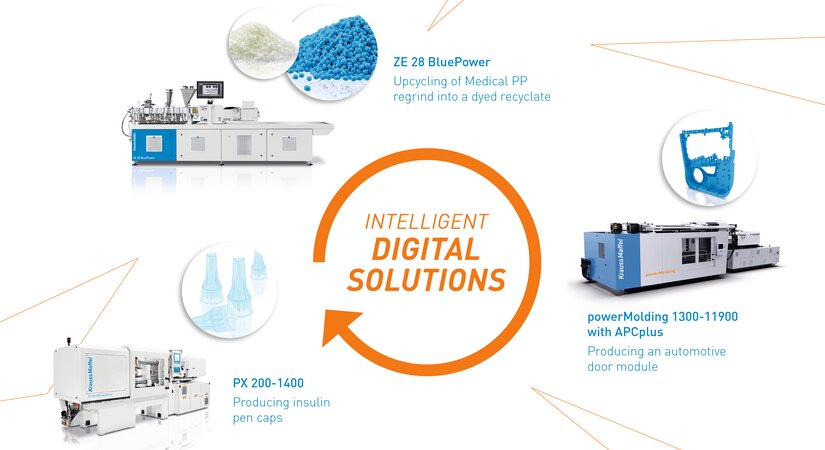 Material cycle at K 2022: from insulin pen caps to automotive door module
End-to-end machine equipment: injection molding – extrusion – injection molding
Up-cycling on the ZE28 BluePower twin-screw extruder: compounding of medical PP regrind to pigmented recyclate
Reduced carbon footprint and lower energy costs in line with a strong environmental conscience
(Munich, 21.06.2022) We all know it: waste plastics are actually raw materials. However, this does not change the fact that far too little of this waste is recycled and returned into the material cycle. At K 2022 (hall 15, booth C15/C24-D24), KraussMaffei will not only exhibit the necessary machinery, but also new digital solutions that enable maximum savings to be achieved in terms of energy consumption and carbon footprint.
Especially in the healthcare sector, the worldwide demand for disposables is enormous. Very often the products are only used for a short time and exhibit minor contamination. These are ideal conditions for subsequently using them as raw materials for components designed for a longer service life. At the KraussMaffei booth, visitors will be able to see for themselves how insulin pen caps are converted into door modules for cars, for example.
Material cycle at K 2022: from insulin pen caps to automotive door modules
Interested visitors can get a live experience of the entire process: A fully electric PX 200-1400 produces 96 insulin pen caps per shot from medical polypropylene virgin material. After shredding, these caps serve as base material for the up-cycling process carried out on the ZE28 BluePower twin-screw extruder. Here, various additives such as bonding agents and liquid pigments are added, mixed and homogenized. The resulting re-compound is transferred to the downstream injection molding machine – more precisely to the new powerMolding 1300-11900 with a clamping force of 13,000 kN. This newly developed series is based on the proven two-platen technology that stands out for a range of highly standardized options and is designed as cost-effective variant in particular for nearly standard applications.
KraussMaffei occupies a pioneering position in this sector and is the only manufacturer to offer the complete machinery involved in the material cycle plus appropriate digital solutions. This makes circular economy much more efficient than ever before. After all, the initial investment in a new injection molding machine accounts for only 10 to 20 % of the overall life cycle costs. The rest is attributable to the actual operation of the machine. This means that reducing the cost of energy, maintenance etc. not only protects the environment, but increases economic efficiency at the same time.
Reduced carbon footprint and lower energy costs in line with a strong environmental conscience
With the application shown at the KraussMaffei booth at K 2022, all sustainability-relevant process data are recorded and displayed, so that the amount of CO2 saved by the recycling process as compared to the use of virgin material is evident at any time.
Together with Motan, for instance, an application has been developed that shows the energy consumption of each process step. This application enables processors to specifically record and improve their energy consumption. The digital ACPplus solution has been optimized and is now better adapted to the processing of reclaimed material. It reduces production scrap thanks to the automatic re-adjustment to changing ambient conditions such as temperature or air humidity during the injection molding process. During machine start-up as well, the nominal process values are achieved much faster, which results in substantially lower start-up scrap. The dataXplorer provides in-depth process data by capturing up to 500 machine signals, every second millisecond, in real time for the carbon footprint measurement. Any deviations from the pre-defined tolerance ranges can thus be detected instantly. KraussMaffei offers an extensive portfolio of solutions to enhance the environmental compatibility of production processes – by integrating, for instance, digital products such as liveCare, processSupport and productionMonitor, which are all part of our socialProduction family developed in close cooperation with our customers. Another interesting option is the use of the pioneersClub – our central customer experience and e-commerce platform.
With its socialProduction portfolio, KraussMaffei as a digital pioneer shows what is already a reality for injection molding machines in the field of Industry 4.0, Cloud and Data Analytics today. Here are just a few examples:
productionMonitor combines the benefits of social media with cutting-edge production monitoring technologies. The machines report to the users live in secure chat rooms.
Working autonomously, the intelligent processSupport solution detects deviations in the production process earlier than ever before and takes machine monitoring into a new era.
liveCare is KraussMaffei's solution for status-oriented maintenance. Seamlessly integrated into socialProduction, wear statuses are continuously monitored and visualized.
The pioneersClub gives customers an overview of all their machines and systems including documentation, fast contact with KraussMaffei experts and easy access to spare parts.
After all, for customers and public authorities, the sustainability topic is increasingly coming into focus. The EU, for instance, is planning to introduce a digital product passport in a few years in order to document, among others, the materials used for each product and how they were processed. The digital products offered by KraussMaffei enable you to take the first steps in this direction right now.
KraussMaffei at K 2022
Hall 15, booth C15/C24-D24
Contact Person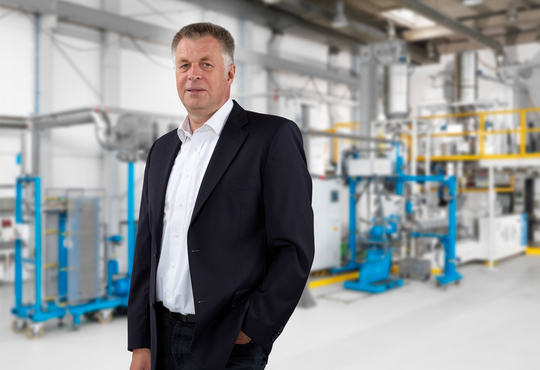 Trade Press officer for Extrusion Technology
Andreas Weseler
Tel +49 (0)511 57 02 586
Fax +49 (0)511 57 02 9586
Mail to Andreas Weseler
Trade Press Officer Injection Molding Machinery
Petra Rehmet
Tel +49 (0) 89 8899 2334
Mail to Petra Rehmet